Information on this page is from: https://www.stpaul.gov/
---
Saint Paul Mayor and City Council
Mayor Carter's top priorities in office include:
Ensuring kids thrive as Saint Paul grows
Focus on early childhood investments to give every student a strong start.
Invest in comprehensive support systems – including essential health services and affordable housing for Saint Paul children and families.
Partner with schools, colleges, workforce training programs and trade unions.
Building safer neighborhoods from the ground up
Hire police officers that reflect our city's diversity, have a stake in our neighborhoods, and protect and serve all of us.
Make sure officers are trained in de-escalation techniques and connected to social workers, mental health providers and crisis prevention counselors so they can help people in crisis get the help they need.
Hold officers accountable for conduct that doesn't meet our standards.
Investing in a city that delivers on its promise 
Ensure economic growth reaches all corners of our city – especially the areas that need it most.
Invest in businesses along cultural corridors across the city.
Make it easier for Saint Paul residents to open and run a business – especially people of color, immigrants, and women.
Saint Paul's Budget
Open Budget
Saint Paul's budget is now available as part of the Open Budget initiative. With Open Budget, you can:
View current and proposed budget information
View budget information based on a department
Download budget data
Please provide feedback on the City's Budget Portal
2020 City of Saint Paul Adopted Budget Information
2020 City of Saint Paul Proposed Budget Information
2019 City of Saint Paul Adopted Budget Information
2019 City of Saint Paul Proposed Budget Information
2018 City of Saint Paul Adopted Budget Information
2018 City of Saint Paul Proposed Budget Information
2017 Adopted and Prior Years' City Operating, Debt, and Capital Improvement Budgets
---
The Budget Process
The budget process follows Minnesota law, the City charter and the legislative code. The process to develop the budget commences in February.
January — March
Finalize the budget for the following year. This includes preparing, printing and distributing books reflecting the adopted budget. The Office of Financial Services prepares the annual financial report for the previous year.
Identify the base budget for the upcoming year.
April — June
Forms, instructions, printouts and the Mayor's guidelines are distributed to departments. Departments use these tools to plan for and develop operating budgets. Department management and staff identify objectives, performance indicators and the resources needed to accomplish goals. Review services to determine purpose, need and cost-saving ideas.
Requests for the following year's budget are submitted in June. OFS budget staff then analyze each department's budget. The Mayor meets with the department directors to discuss their needs and to ensure that budgets meet the service level and taxing objectives that have been established for the City.
July — September
The budget staff finalizes the Mayor's recommendations and produces the Mayor's proposed budget. The Mayor submits the recommended budget to the City Council by August 15, per City charter.
In August, the City Council begins reviewing the Mayor's proposed budget. Council meets with department management to clarify the  proposed budget. This helps ensure departments meet their goals, priorities, and objectives. As required by state law, the City Council sets the maximum property tax levy in September. Budgets may be adjusted, but they cannot exceed the maximum tax levy.
October — December
The City Council holds public hearings on the budget. Ramsey County mails property tax statements to property owners. These statements include:
the maximum amount of property taxes that the owner must pay
---
Current City Council, left to right:  Rebecca Noecker, Ward 2  | Mitra Jalali, Ward 4  | Chris Tolbert, Ward 3  |  Amy Brendmoen, Ward 5 and Council President  |                Nelsie Yang, Ward 6 |  Dai Thao, Ward 1 | Jane L. Prince, Ward 7
Saint Paul City Council
---
About Ward 1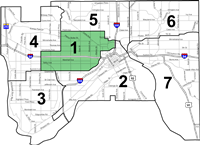 Ward 1: The Heart of the City Ward 1 includes the Thomas-Dale (Frogtown), Summit-University district councils/neighborhoods, the portion of the Union Park District Council that is east of Snelling Avenue, the North End Neighborhood, and includes the Lexington-Hamline and Snelling-Hamline communities. Ward 1 represents "the heart of Saint Paul," in terms of both geography and composition. The neighborhoods in Ward 1 comprise the City's most racially and economically diverse ward, and provide a rich tapestry of people and history. Ward 1 is home to the Saint Paul Cathedral, Golden Thyme Cafe, Penumbra Theatre, Mai Village, the Minnesota Transportation Museum and the Rondo Community Outreach Library.
Dai Thao, Councilmember
---
About Ward 2
Ward 2 includes the neighborhoods of West 7th Street, the West Side, Summit Hill, Railroad Island, Lowertown, and the Downtown business district. The Ward is shaped by its proximity to the Mississippi River. Harriet Island Regional Park, Lilydale Park, and the Mississippi National River Recreation Area are located on the banks of the river in Ward 2.
About Councilmember Noecker
Rebecca Noecker is an innovative leader, a community-builder, and a strong advocate for social justice. 
Rebecca grew up in St. Louis Park and earned her bachelor's degree in Social Studies from Harvard College. She dedicated her early career to educational equity, as a middle school science teacher with Teach For America in Baton Rouge, a program officer at the Baton Rouge Area Foundation and Teach For India, and as director of community engagement at AchieveMpls. 
Rebecca has served on the board of the West Side Community Organization and the St. Paul Planning Commission, and she founded West Siders for Strong Schools, a neighborhood group dedicated to promoting excellent public schools on the West Side.
In 2015, Rebecca was elected to be the first woman to represent Ward 2 on the Saint Paul City Council. Her priorities are equity, economic development and creating opportunities for young people. 
Rebecca lives with her husband Shane Noecker, and their sons, Whitman and Fitzgerald, on St. Paul's West Side.
---
About Ward 3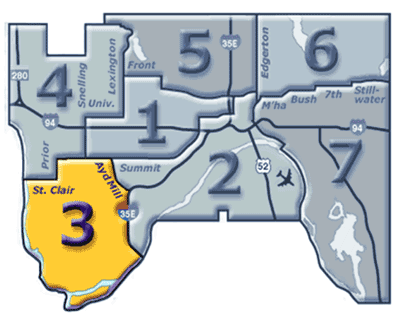 Historical and vibrant Ward 3 covers the southwest corner of the city, extending from the West End to Fort Snelling. The ward includes the neighborhoods of Highland Park and most of Macalester-Groveland. It is the home to Macalester College and the College of Saint Catherine. Our neighborhood has many local businesses, and restaurants throughout many of our great streets like: Grand Ave, Ford Parkway, West 7th Street, among others.
About Councilmember Tolbert
Born and raised in St. Paul, Chris Tolbert attended St. Paul Public Schools and graduated from Central High School. Tolbert graduated from St. John's University, then went on to earn a law degree from Hamline University School of Law. Tolbert currently works as an Assistant Hennepin County Attorney. He was elected to represent Saint Paul's Third Ward on the City Council in November, 2011 and was sworn in on January 4, 2012. He was reelected to a second term in November 2015.
In his capacity as Councilmember, Chris Tolbert serves on:
Housing and Redevelopment Authority, Chair
Saint Paul Library Board
Workforce Investment Board of Ramsey County
Metropolitan Workforce Council Board
Saint Paul Regional Board of Water Commissioners
Transit Advisory Board (TAB) of the Metropolitan Council
Riverview Corridor PAC
Visit Saint Paul, Board Member
---
About Ward 4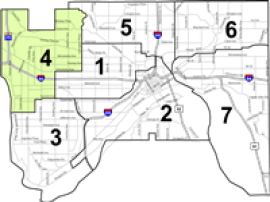 Ward 4 includes many of Saint Paul's best-known locations, including  "Minnesota's Main Street," Snelling Avenue and a large portion of Como Park.  The Green Line runs through Ward 4 along the diverse and busy University Avenue business district. Ward 4 includes all or part of five neighborhoods —  Hamline-Midway, Merriam Park, Saint Anthony Park, and parts of Mac-Groveland  and Como.
About Councilmember Jalali Nelson
Mitra Jalali Nelson was sworn in as the newest member of the Saint Paul City Council in September 2018 to represent Ward 4, which includes the neighborhoods of Merriam Park, Union Park, Saint Anthony Park, Como Park, Mac-Groveland and Hamline-Midway in the northwest part of the city. Mitra has previously worked as a classroom teacher, community organizer, policy aide and congressional staffer to U.S. Rep. Keith Ellison. Her priorities in office include attainable and affordable housing and homeownership, community-first public safety and police accountability, sustainability and transit, and community wealth-building through economic development. Mitra is also passionate about organizing, inclusive community engagement, and representation for all, including underrepresented and underserved community members. In addition to serving as a City Councilwoman, she also serves on the board of the Family Housing Fund, the intergovernmental Joint Property Tax Advisory Committee, Ramsey County Dispatch and is the co-chair of the 2020 U.S. Census collection initiative for Ramsey County.
---
About Ward 5
Ward 5 is located in the north-central part of the city and includes parts of the Como, North End, Payne-Phalen and Railroad Island neighborhoods. The ward is bordered to the west by Lake Como and the world-class Como Park Zoo and Conservatory. Spanning east, Ward 5 encompasses Loeb Lake, the Rice Street business corridor, the new Trout Brook Nature Preserve and extends past 35E to Edgerton Avenue. Ward 5 is one of the most diverse areas of the city and offers a variety of housing, recreation and commercial opportunities for residents and visitors.
About Council President Brendmoen
Amy Brendmoen is the President of the Saint Paul City Council and has been in elected office since 2012. She came into public service by way of private sector at a local advertising agency, public sector as a mediator and non-profit sector as communications director. Amy highly accessible to her constituents and seeks to enfranchise community members by building trust, sharing power and providing consistent, clear communication. Her priorities in her role on the council include housing, economic development, people-centered engineering & planning all viewed through a lens of promoting equity and opportunity. She is open-minded, thoughtful and believes that great ideas bloom from all places. Amy seeks opportunities to be outdoors and exploring with her husband and three teenage sons, both in the wonderful natural environment of Minnesota and in cities and places across the country and globe.
In her role, Amy serves on several commissions and boards: Saint Paul Housing and Redevelopment Authority; Saint Paul Library Board; Saint Paul Regional Water Services Board of Water Commissioners, Vice-Chair; Rush Line Corridor Commission and Policy Advisory Committee; Joint Property Tax Advisory Committee; League of Minnesota Cities.
---
About Ward 6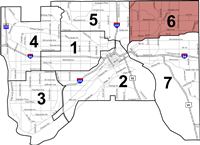 The Greater East Side Ward 6 is comprised of many neighborhoods including Frost Lake, Hayden Heights, Hazel Park, Payne/Phalen, Phalen Village, and Prosperity. More simply, people here are proud to be called East Siders. Ward 6 is also home to important natural amenities including Phalen Regional Park, Saint Paul's most beautiful lake and park. Another point of interest: Ward 6 contains the highest point in Saint Paul, the 14th tee at Hillcrest Golf Course (1075.2 feet above sea level).
About Councilmember Nelsie Yang
I believe that all working families should live a life that is long, fulfilled, and joyful. In an ideal world, no working family should have to experience the pain of not having enough. The reality we live in is far behind from this ideal world. Many families today are living paycheck to paycheck; trapped in cycles of poverty. Rent has skyrocketed while our wages have not. Jobs are limited in the East Side, creating barriers for our youth and millennials especially when it comes to joining the workforce. 
I'm a fighter, racial equity organizer, and union steward. We don't run to keep the system the same, we run to make it work for people across race, age, gender, class, and especially those left behind. My priorities are economic sustainability for working families and small businesses, affordable housing, public safety for all, climate and environmental justice, equitable roads and transportation, and an East Side united across our diversity. 
---
About Ward 7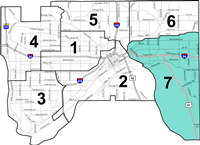 Green and growing Ward 7 includes the neighborhoods of Dayton's Bluff, Mounds Park, Swede Hollow, Battle Creek, Highwood, Conway and Eastview. From the historic urban homes in Dayton's Bluff Historic District to the wooded winding roads and wildlife in Highwood Hills, Ward 7 has something for everyone. Did you know Ward 7 also has the largest amount of open space in the City? Battle Creek Regional Park is a huge multi-use parkland, and Pig's Eye Lake and the Bruce Vento Nature Sanctuary are examples of successful reclamation projects that will preserve Saint Paul's natural resources for the future.
Jane L. Prince, Councilmember
---
Term of Office
Councilmembers are elected to a 4-year term. The current term runs through the end of 2019.
Meetings – Open to the Public
All meetings are held in the Council Chambers of the Saint Paul City Hall and Ramsey County Courthouse, 300 City Hall, 15 Kellogg Boulevard., West. The public is welcome to attend meetings and can access meeting information on the Council's Meeting Calendar such as looking at meeting videos or looking up agendas, minutes, and documents. Saint Paul Channel 18 also broadcasts the meetings live and then replays are normally available on Thursdays at 5:00 PM and Saturdays and Sundays at 2:00 PM. 
For information on how to make a public comment at a City Council meeting, please watch the video below:
Meeting Schedules and Materials